Off-roading can be a thrilling experience, but you'll need a truck with the necessary characteristics to navigate the most difficult terrain and, more significantly, have the most fun. See our experts' picks for the best off-road trucks, and learn what off-road gear will make traveling off-road safer and smarter. Pick-up trucks are noted for their ability to tow and move huge loads as well as perform heavy-duty work on construction sites. This is what gives trucks their versatility: the capacity to handle a wide range of difficult tasks. More recently, we have witnessed a rise in the number of pickup trucks designed specifically for off-roading and rough terrain.
Nearly every pickup truck's lineup now has an off-road-focused trim level or optional package. Rugged skid plates, high-performance suspension, off-road tires, and capable four-wheel-drive systems are included in these off-roading trucks. In this article, we highlighted the top ten best off-road trucks in the world.
Here are the top ten best off-road truck options available today.
2021 Toyota Tacoma TRD Pro | $44,075 | U.S. News Overall Score: 7.4/10
Although the Toyota Tacoma is one of the older pickup trucks in the compact class, it has the exceptional off-roading capability, particularly in the TRD Pro model. A 3.5-liter V6 engine with 278 horsepower is standard on this trail beast. The TRD Pro, unlike many other tiny pickups, comes with a six-speed manual transmission. A front skid plate, a TRD-tuned suspension, a TRD exhaust system, Bilstein shocks, a locking rear differential, 16-inch black alloy wheels, and all-terrain tires are included with the TRD Pro grade. A multi-terrain monitor, crawl control, and a multi-terrain choose system are among the off-roading tech features included with the TRD Pro. It's worth noting that the latter two features are only available with the automatic transmission option.
2021 Nissan Titan Pro-4X | $50,390 | U.S. News Overall Score: 7.6/10
The Nissan Titan falls behind the other full-size pickup trucks in the class, with a reduced towing capacity and an interior made of hard plastic. The Titan's basic 5.6-liter V8 engine, which produces 400 horsepower, is one feature that sets it apart from other full-size trucks. The V8 provides consistent acceleration when tackling hills or rough terrain. The Pro-4X trim is recommended for off-roading. It features four-wheel drive as standard, as well as Bilstein coil-over shocks, an electronic locking rear differential, hill descent control, heavy-duty skid plates, and all-terrain tires. For rough terrain, the four-wheel-drive system has a two-speed transfer case with high- and low-range gears. The PRO-4X stands out from the rest of the lineup thanks to LED headlights, a distinctive grille, charcoal bumpers, and 18-inch wheels.
2022 GMC Canyon AT4 | MSRP: $38,400 | U.S. News Overall Score: 7.8/10
The GMC Canyon has some of the best towing capabilities in the class, with a maximum towing capacity of 7,700 pounds when equipped with a diesel engine. GMC sells the Canyon in AT4 grade, just as the full-size Sierra 1500. It has a 308-horsepower V6 engine, an eight-speed automatic transmission, a two-speed transfer case, a locking rear differential, and an off-road suspension as standard. The AT4 is available in two trim levels, one with cloth upholstery and the other with leather upholstery. The offered Leather option is the preferable choice if you want to go off-roading in comfort. Wireless device charging, a heated steering wheel, and front and rear parking sensors are included in addition to the leather interior. The AT4 can be equipped with a turbo-diesel four-cylinder engine that produces 369 pound-feet of torque as an option. The conventional 3.6-liter V6 engine includes the eTorque system.
2022 Chevrolet Colorado ZR2 | $41,600 | U.S. News Overall Score: 7.8/10
With just one look at the Chevrolet Colorado ZR2, it's clear that this pickup truck is serious about business. The ZR2 appears to have been built from the ground up to be a genuine off-roader, and it has the performance to back it up. The track of the ZR2 is 3.5 inches wider than ordinary Colorado, the suspension is 2 inches higher, and there are various skid plates on the bottom of the vehicle. Four-wheel drive is standard, as is a two-speed transfer case with shield, locking front and rear differentials, and an off-road-tuned suspension. The ZR2 Bison has an even greater off-road capability. The truck was created in collaboration with American Expedition Vehicles and comes with a 32-inch off-road tire, rugged bumpers, and innovative skid plates.
2021 Chevrolet Silverado 1500 Trail Boss | $41,700 | U.S. News Overall Score: 7.9/10
The full-size Chevrolet Silverado 1500 pickup is available in an off-road-specific form. It's known as the Trail Boss, and it's available in both Custom and LT trim levels. A two-inch raise, Rancho shocks, skid plates, a two-speed transfer case, and an automatic locking rear differential are all included with the Trail Boss. There are also 32-inch Goodyear tires and tough 18-inch black wheels supplied. Three engine options are available for the Trail Boss grades. The basic engine is a 4.3-liter V6 with 285 horsepower. Chevrolet provides two V8 engines: a 355-horsepower 5.3-liter engine and a 6.2-liter V8 engine. The Trail Boss' 6.2-liter V8 engine produces 420 horsepower and provides plenty of grunts when conquering difficult terrain.
2021 GMC Sierra 1500 AT4 |  $54,700 | U.S. News Overall Score: 8.0/10
The GMC Sierra 1500 stands out in the highly competitive full-size market because of its high-tech amenities, comfortable ride, and wide range of strong engines. GMC offers the Sierra 1500 at the competent AT4 level for off-roading enthusiasts. The AT4 model has a two-inch raise, front and rear skid plates, Rancho shocks, a locking rear differential, and hill descent control to help it handle rough terrain. The AT4 comes standard with a 355-horsepower 5.3-liter V8 engine, but it may be equipped with a turbo-diesel 3.0-liter six-cylinder engine or a 6.2-liter V8 engine. The AT4's 6.2-liter V8 produces 420 horsepower, making it a capable off-roader.
2021 Ford Ranger Tremor | $40,955 | U.S. News Overall Score: 8.0/10
Ford introduced the Tremor off-roading package for the Ranger for the 2021 model year. The option is available with four-wheel drive on the XLT and Lariat trim levels and significantly increases the tiny pickup truck's off-road capability. The Tremor package includes Fox rear reservoir dampers, 17-inch wheels, heavy-duty skid plates, and a steel bash plate, among other things. Every Ranger is equipped with a 270-horsepower turbocharged 2.3-liter four-cylinder engine. The engine comes with a 10-speed automatic transmission that helps it produce rapid acceleration with minimal turbo lag. The Tremor package adds 32-inch tires, a locking rear differential, and Ford's Terrain Management and Trail Control technologies, as well as other unique interior and external design touches.
2021 Ford F-150 Raptor | $64,145 | U.S. News Overall Score: 8.7/10
The F-150 Raptor was the king of the jungle before Ram released the TRX. It's still one of the most competent high-performance vehicles on the market. The 2021 Ford F-150 Raptor comes standard with a 3.5-liter twin-turbo V6 engine that produces 450 horsepower. A five-link rear suspension with a Panhard rod, a terrain-management system, Fox dampers, and 34-inch tires are also included on the high-speed desert runner. Because the Raptor is wider and taller than a conventional F-150, it may not be the best choice for people who want to go off-roading in the woods. The Raptor, on the other hand, is designed to travel at fast speeds over a wide terrain. Still, if you can find a path big enough for the Raptor to fit, the truck's seven driver-selectable modes will assist it to obtain traction on a variety of surfaces.
2022 Ram TRX | $72,490 | U.S. News Overall Score: 9.1/10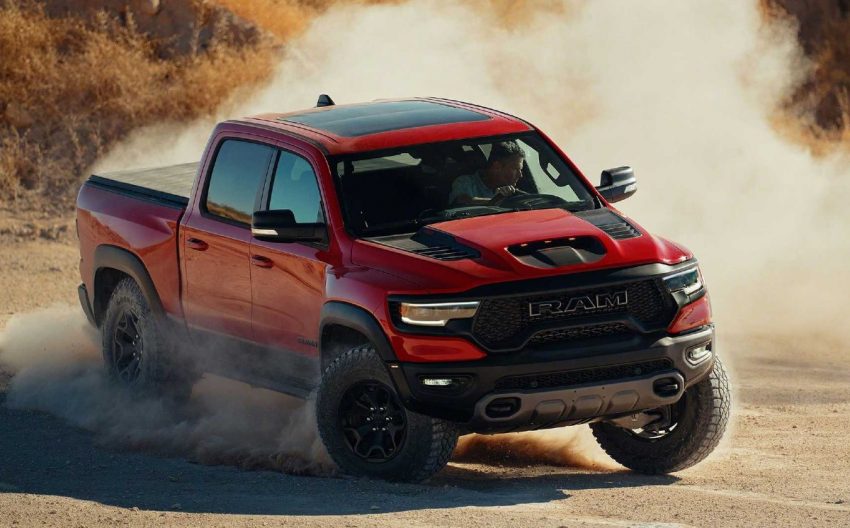 The Ram TRX is the pickup for you if you want the biggest and boldest. With a standard supercharged 6.2-liter V8 engine that delivers an astounding 702 horsepower, the 2022 TRX, based on the Ram 1500, pushes off-roading to new heights. The TRX can accelerate from a standstill to 60 mph in just 4.5 seconds when equipped with launch control. The TRX has Bilstein shocks, a large air filter, 35-inch tires, eight separate drive modes, and 11.8 inches of ground clearance, more than 13 inches of suspension travel, and a full-time four-wheel-drive system in addition to the monster engine. These are only a few of the TRX's capabilities, which include the ability to fly, travel at triple-digit speeds over sand, and traverse practically any obstacle.
2022 Ram 1500 Rebel | $47,850 | U.S. News Overall Score: 9.1/10
While any Ram 1500 with four-wheel drive can be equipped with a capable Off-Road package, the Rebel trim adds rugged looks and a few extra features to make it one of the more capable trims in the lineup. The Rebel is equipped with a locking rear differential, a two-inch raise package, tow hooks, 33-inch tires, improved suspension, skid plates, and hill descent control, in addition to its powerful design. Bilstein shocks, air suspension, and a larger air filter are all available to assist the Rebel handle tough terrain. Ram offers a variety of power plant options for the Rebel. The 3.6-liter V6, 5.7-liter V8, and turbocharged 3.0-liter V6 diesel engines are all standard. The V8 engine comes with or without Ram's eTorque technology, which boosts torque by up to 130 pound-feet. The eTorque technology is standard on the standard 3.6-liter V6 engine.
Apart from trucks known to carry loads for industrial purposes, pick-up trucks are designed for a more convenient luxurious living on the road. Because trucks are larger vehicles in general, they can carry more weight. Manufacturers make the beds behind the truck's cabin very large and sturdy because people want to load a lot of gear. They are also heavier since the engines have more hauling power and contemporary vehicles have more seating room.
(Visited 96 times, 1 visits today)