We usually think wars stretched no other than disadvantages on both parties involved. But the truth is, aside from non-negotiable bright lights from bombs and fires of wars, there were innovations sparked from wars back in the day. The oil tanker industry began in the 1860s, with the first oil tanker being powered by wind sails. The development of larger ships was prompted by World War I. To transport more oil for the warships, the ships needed to be larger. Apparently, the development of oil tankers did not stop at the end of the World wars, but the beginning of more huge oil tankers to the present day. In this article, we list down 9 of the largest oil tankers in the world. The entire length (regardless of the gross tonnage) is used to determine the ranking.
Here are the top 7 largest oil tankers in the world ever made
Seawise Giant
During the 1980–1988 Iran–Iraq War, the Seawise Giant was sunk by an Iraqi Air Force attack while anchored off the coast of Larak Island, Iran, on 14 May 1988. Norman International purchased the shipwreck, recovered it, and restored it shortly after the war ended. In 2010, the 36-tonne anchor from the ship was recovered and donated to the Hong Kong Maritime Museum. On Stonecutters Island, the anchor, which is now a memorial, is located close to a Hong Kong Government Dockyard building. With a length of 485.45 meters (1,504.10 feet), a depth of 24.611 meters (97.77 feet), and a loaded draw of 24.6 meters (80.74 feet), it was incapable of transiting the English Channel, Suez Canal, or Panama Canal. The Seawise Giant has the highest deadweight tonnage ever recorded when fully loaded, with a displacement of 657,019 tonnes. S. claims to be her captain. According to K. Mohan, the ship could reach speeds of up to 16.5 knots (30.6 km/h) in favorable weather. Now, all that remains of the Seawise Giant, the world's largest ship, is her 36-tonne anchor, which is on display at the Hong Kong Maritime Museum.
Batillus Class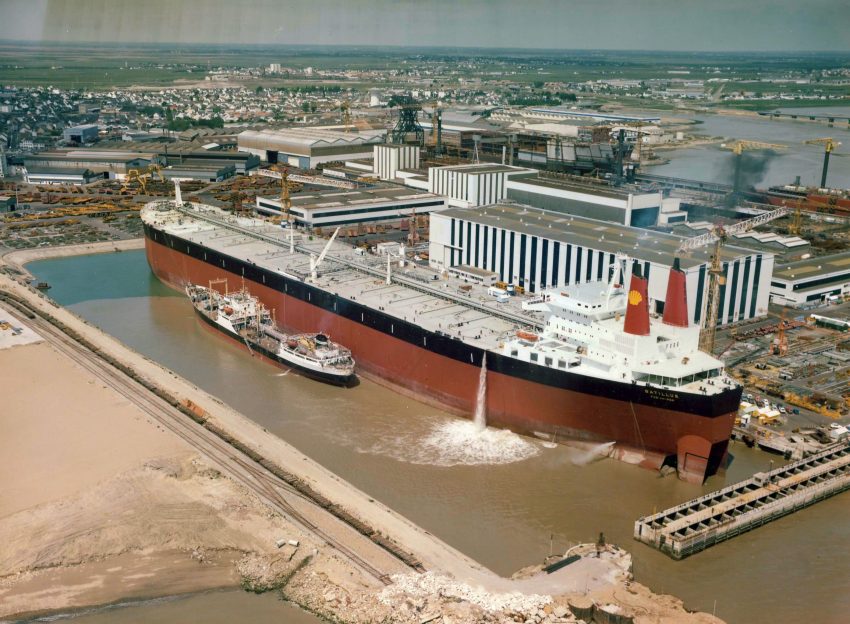 The four Batillus-class supertankers built in France between 1976 and 1979 were Batillus, Bellamya, Pierre Guillaumat, and Prairial. The class lasted until 2003, when the last one (Prairial) was retired. They were the largest ships of any type ever built measured by gross tonnage, measuring 414.22 m (1,359 ft) in length, 35.92 m (117.8 ft) in depth, and 28.5 m (94 ft) in loaded draft. Yes, you read it right, Batillus class oil tankers will be at the peak of the list if ranked by gross tonnage. While the four ships had slight variances, they all had a gross tonnage of between 275,000 and 555,000 tonnes deadweight tonnage. After fewer than ten years of oil transport operation, three of the ships were demolished, with the fourth scrapped in 2003.
ESSO Atlantic and ESSO Pacific
The Esso Atlantic and Esso Pacific were two of only seven ships in maritime history to exceed 500,000 tons deadweight. Between 1977 and 2002, they carried a gross tonnage of 235,000 tonnes and a deadweight tonnage of 508,628 tonnes. These two Esso Atlantic class ships have a fully laden draft of 25.3 m (83 ft) when at sea, making it difficult for them to cross the English Channel, the Suez Canal, or the Panama Canal when fully loaded. They were 406.57 meters (1,333.89 feet) long and 31.22 meters (102.43 feet) deep.
When Esso Eastern Marine Ltd., Bermuda, sold them to Ceres Hellenic Shipping Ent. in 2002, they were renamed Katepan Giannis. Greece, Ltd. They were both scrapped in Gadani Beach, Pakistan, in August and September 2002.
Nai Superba and Nai Genova
In 1978, the Nai Superba and her sister, the Nai Genova, were introduced as Ultra Large Crude Carriers (ULCC). They were built in Goteborg, Sweden, at Eriksbergs Mekaniska Verkstads AB. They were among the last ships built at that plant before it closed in 1979 owing to financial problems that arose as Japanese shipyards gained a foothold in the industry. Nai Superba and Nai Genova were steam-powered ships with a gross tonnage of 198,783, a deadweight tonnage of 409,400, and a length of 381.81 meters (1,253 feet).
Their beam measured slightly over 63.4 meters (208 feet). They used to be known as oil ships, but they now deliver chemicals to ports all over the world. They were sold several times between 1985 and 1997, notwithstanding their adaptability. In 2000-2001, after three more years of economic hardship, the unfortunate decision was made to scrap them.
Berge Emperor and Berge Empress
Mitsui built the Berge Emperor and her twin sister Berge Empress supertankers in Japan in 1975. Bergesen d.y. is the owner. Another twin sister oil tankers in the history, indeed! They both debuted in the same year, & Co. Berge Emperor lasted until 1986, and Berge Empress lasted another eight years before being demolished. The Berge Empress had a gross tonnage of 198,783, while the Berge Emperor had a gross tonnage of 203,112. They were two of the largest oil tankers ever built, with a combined length of 381.82 m (1,252.7 ft).
TI-Class Supertankers
The four TI class supertankers, TI Africa, TI Asia, TI Europe, and TI Oceania, were built by Daewoo Shipbuilding & Marine Engineering in Okpo, South Korea, for the shipping company Hellespont Group, and entered service between March 2002 and April 2003. They are the first ULCCs to be constructed in 25 years. Despite the fact that they didn't make the top five on our list (ranking sixth), they are still in service, making them the world's largest oil tankers at the moment. Who knows the ranking could mean survival of the fittest! Only Pioneering Spirit, a crane ship, is smaller than the TI class ships in terms of displacement (67,591 tonnes light and 509,484 tonnes full load), deadweight tonnage (441,893), and gross tonnage (234,006).
Andros Petros
There is not much we can say about this huge Greek-guy named Andros Petros oil tanker, but its size says it all. Measuring at about 378.39 m / 1,241 ft. in length and with the gross tonnage of 218. 447, without a doubt, Andros Petros is one colossal oil tanker. Andros Petros was built under the company of Northern Sealanes Corp. At the present day, Andros Petros is broken up.
 Other than wars, where it all began, toady, oil tankers play a critical role in carrying crude oil and processed petroleum products to where they are required. With the majority of oil and gas reserves concentrated in a few nations and refineries and consumers spread across the globe.
FAQs about Oil Tankers
What is the purpose of an oil tanker?
Oil tankers are specialized ships designed to transport large quantities of liquid cargo, primarily crude oil and refined petroleum products, from one location to another, often across vast distances.
How are oil tankers classified based on their size?
Oil tankers are categorized into different classes based on their size and capacity. The classification typically includes categories such as Small Range Product Tankers, Aframax, Suezmax, and Very Large Crude Carriers (VLCCs), with each class having varying cargo capacities.
What safety measures are in place to prevent oil spills from tankers?
To mitigate the risk of oil spills, oil tankers are equipped with advanced safety features and undergo rigorous inspections and maintenance. These safety measures include double hulls, advanced navigation systems, and adherence to international regulations such as the International Maritime Organization's (IMO) MARPOL Convention.
How do oil tankers load and unload their cargo?
Oil tankers typically load their cargo at offshore terminals or ports using specialized equipment such as loading arms and hoses. The unloading process is usually carried out at refineries or distribution terminals using similar equipment to transfer the oil to storage tanks or pipelines.
What environmental impact do oil tankers have on marine ecosystems?
Oil tankers, if not operated safely, pose a significant risk to marine ecosystems in the event of oil spills. Oil spills can lead to severe environmental damage, harming aquatic life and coastal environments. As a result, strict regulations and safety measures are in place to minimize such risks and protect the environment.
What is an oil tanker ship called?
An oil tanker ship is commonly referred to as an "oil tanker."
How many gallons of oil does a tanker ship hold?
The capacity of an oil tanker ship varies widely depending on its size and type. A typical large oil tanker can hold millions of gallons of oil, with some of the largest ones capable of carrying over 2 million barrels, which is approximately 84 million gallons.
How big is an oil tanker ship?
Oil tanker ships come in various sizes, ranging from small coastal tankers to massive supertankers. The size can be measured in terms of deadweight tonnage (DWT) or length overall (LOA). Supertankers can have a length of over 1,000 feet and a width of over 200 feet.
What does an oil tanker ship do?
An oil tanker ship is designed to transport large quantities of liquid cargo, primarily crude oil and refined petroleum products, from one location to another, often across long distances or between countries.
How many barrels of oil fit in a tanker ship?
The number of barrels of oil a tanker ship can carry varies depending on its size. A standard oil barrel contains 42 gallons of oil, so a tanker carrying 2 million barrels would transport approximately 84 million gallons of oil.
How big is the largest oil tanker?
The largest oil tanker ever built was the "Seawise Giant," later known as the "Happy Giant" and "Jahre Viking." It had a length of 1,504 feet (458 meters) and a DWT capacity of over 564,000 tons.
What is the average crew size of an oil tanker?
The crew size of an oil tanker varies based on its size and the specific requirements of the voyage. On average, a mid-sized tanker might have a crew of around 20 to 30 people, while larger tankers can have significantly more crew members.
What are the largest oil tankers?
Some of the largest oil tankers in history include the Seawise Giant, Jahre Viking, and Knock Nevis, among others. These supertankers were known for their immense size and cargo-carrying capacity.
What is the most common oil tanker?
The most common type of oil tanker is the "Aframax" class, which is smaller than supertankers but still has a substantial cargo capacity. Aframax tankers are often used for transporting crude oil and refined products between ports.
Who has the largest supertanker fleet in the world?
Various companies and nations operate supertanker fleets, but historically, some of the largest fleets have been owned by countries with significant oil production, such as Saudi Arabia, Venezuela, and Iran. However, the ownership and ranking of supertanker fleets can change over time due to market dynamics and geopolitical factors.
(Visited 92 times, 1 visits today)