Coronavirus is a type of virus that usually affects the respiratory tract: nose, sinuses, and or upper throat. Coronaviruses are common throughout the world, and affect mammals, including humans.
Human coronavirus infection is associated with the common cold, pneumonia, and severe acute respiratory syndrome (SARS). In some cases, the infection can also affect the gut.
Coronavirus Transmission
Although Coronaviruses most commonly infect mammals, they can be transmitted from animals to humans, or one human to another. Most coronaviruses spread the same way other cold-causing viruses do, through infected people coughing and sneezing, by touching an infected person's hands or face, or by touching things such as doorknobs that infected people have touched.
But according to a recent update, Chinese doctor Wang Guangfa says the killer coronavirus could be transmitted through the eyes. "Leading experts confirmed it is 'absolutely possible', saying the virus can enter the eyes by touching them – if it is on a patient's hands."3
Coronavirus Symptoms
According to the WebMD, the symptoms of most coronaviruses are similar to any other upper-respiratory infection, including runny nose, coughing, sore throat, and sometimes a fever. In most cases, the affected person does not know if he has been affected by a coronavirus or a different cold-causing virus, such as rhinovirus.
Types of Coronaviruses
Seven different coronaviruses, that scientists know of, can infect people and make them sick. Coronaviruses are named for the crown-like spikes on their surface. There are four main sub-groupings of coronaviruses, known as alpha, beta, gamma, and delta.
Human coronaviruses were first identified in the mid-1960s. The seven coronaviruses that can infect people are:
4 Most Common human coronaviruses
229E (alpha coronavirus)
NL63 (alpha coronavirus)
OC43 (beta coronavirus)
HKU1 (beta coronavirus)
3 Less common Human coronaviruses
MERS-CoV (the beta coronavirus that causes Middle East Respiratory Syndrome, or MERS)
SARS-CoV (the beta coronavirus that causes severe acute respiratory syndrome, or SARS)
2019 Novel Coronavirus (2019-nCoV)
What to Do About Coronavirus
As for now, there is no vaccine or therapeutic prevention against coronavirus. The steps to take in order to avoid the infection are the same used to help avoid the common cold:
Wash your hands thoroughly with soap and warm water
Sanitize your hands with alcohol-based hand sanitizer.
Keep your hands and fingers away from your eyes, nose, and mouth.
Avoid close contact with people who are infected.
Coronavirus Treatment
You treat a coronavirus infection the same way you treat a cold:
Keep your immune system strong
Take plant-based vitamin C
Get plenty of rest
Drink fluids
Take over-the-counter medicine to stop or alleviate the coronavirus symptoms
Use humidifier or steamy shower to ease a sore and scratchy throat
See your physician
Coronavirus in China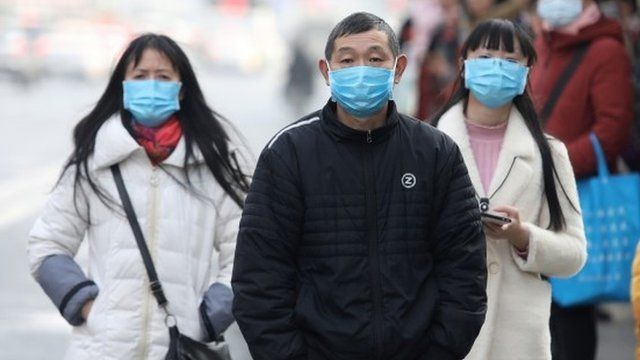 "Scientists have predicted more than a quarter of a million people could be infected with the coronavirus in Wuhan alone by the beginning of February.  Wuhan is the outbreak center of the disease in China. Chinese authorities have ordered the building of a new hospital in less than a week to deal with 'overwhelming' numbers of patients. Large parts of China have gone into lockdown today, with cities stopping their public transport and closing roads."
"It feels like the end of the world': NINE Chinese cities and towns are in lockdown as experts warn deadly coronavirus outbreak is MUTATING – as Singapore becomes the eighth country to confirm case."2
Coronavirus in UK
"Fourteen UK patients have been tested for the killer coronavirus after returning from China with flu-like symptoms with more than 800 cases confirmed, it can be revealed. 
The unidentified patients are thought to be from Wuhan, the city at the heart of the outbreak which has killed 25 people – officials today revealed the first person had died outside of Wuhan's province Hubei."
Coronavirus in USA
First, 2 People were diagnosed with coronavirus in USA. Health officials have been investigating other potential cases of the virus in people who recently came from Wuhan, the Chinese city where the virus originated, which led to the diagnosis of the virus in 2 other people. One of the infected individuals, who was not named, has been put in quarantine in his/her home after health professionals suspected symptoms similar to the coronavirus.
"Two more cases of the new coronavirus have been diagnosed in the U.S., bringing the national total to four. The new cases are both in California — one each in Los Angeles County and Orange County — in addition to one case in Washington state and another in Chicago.
On Sunday, the Los Angeles County Department of Public Health said its patient had traveled to Wuhan, China, the epicenter of the growing outbreak. The patient has been hospitalized, but no other details about that case were made available."4
References:
(Visited 49 times, 1 visits today)