1. January 11: A man is waiting for the subway in Mexico City, Mexico, during the day without pants.
2. January 19: A woman receives a beauty treatment with snails in the province of Chiang Mai, Thailand.
3. January 27: An animatronic polar bear is greeted by a girl in a subway in London to mark the launch of Fortitude TV series.
4. February 5: A service robot flies with a command in a Singapore restaurant.
5. March 18: A soldier walks in front of a graffiti painted angel wings by the artist Colette Miller in Ciudad Juárez, Mexico.
6. April 27: A child playing on a bouncy castle, a replica of Stonehenge, in a public park in Mostoles, Spain.
7. May 4: A thousand people are receiving a facial massage at a sports center in Jinan, China.
8. May 16: A three–story nail house, the last of the neighborhood, still stands in the middle of a road under construction in Henan Province, China.
9.June 3: A summer visitor of the exhibition at the Royal Academy of Arts in London working on the "Zobop" a work of art by Jim Lambie.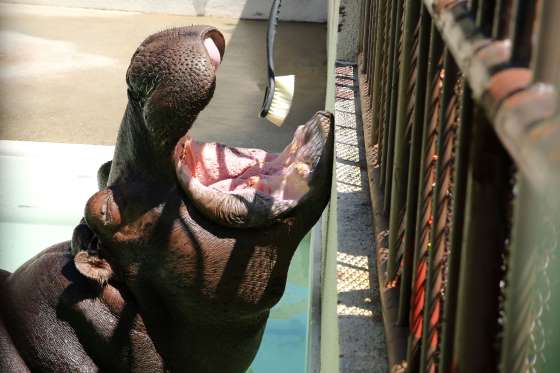 1o. June 4: Kiboko, a 31 years old female hippopotamus in Himeji City Zoo, Japan, opens his mouth to get her teeth brushed.
11. June 5: 2 partially nude cyclists in the race "Naked Bike Ride" in Thessaloniki, Greece.
12. May 27: A man wearing a crocodile head mask looks the new Lacoste collection in Tokyo, Japan.
13. June 7: Balloons with images of the G7 Leaders, made by the ONE organization, flying in the sky during a thunderstorm above the town of Garmisch-Partenkirchen, Germany.
14. June 8: A dog groomer transforms her dog into "Snow White and the Seven Dwarfs" for a grooming competition in Somerset, New Jersey.
15. July 1st: A Chilean Flamingo, whose leg was amputated, gets a new prosthesis in the zoo in Sorocaba, Brazil.
16.July 10: 3 Star Wars Fans disguised as "Chewbacca Charlie" for the Comic-Con International in San Diego, California.
17. July 26: A competitor in the diving competition jumps from the Stari Most (English: Old Bridge) in Mostar, Bosnia and Herzegovina.
18. August 1: An American Eskimo surfing during the 10th Unleashed by Petco Surf Dog Competition at Imperial Beach, California.
19. August 24: A grouse lands on the head of the Turkish President, Recep Tayyip Erdoğan, while he visits a center of the Department of Forest and Water Management in Rize, Turkey.
20. August 24: The Panamanian Rolanda Bell falls head first into a water jump during 3000m steeplechase in Beijing, in the IAAF Athletics World Championships in Beijing, China.
21. August 29: A child pushing a sumo out of the ring during a fake competition in Tokyo, Japan.
22. August 31: A man with his body painted with the likeness of a tiger dances before a panel during the "Pulikali" a dance procession of the tiger, Kerala, India.
23. September 1st: Prince William laughs touching the beard of Welsh rugby player, Jake Ball, during an event in London, England.
24. September 2nd: US President Barack Obama holds a fish caught in Nushagak River in Dillingham, Alaska.
25. September 4: The comedian Rowan Atkinson, dressed as Mr. Bean, sits on the roof of a Mini during a promotional event in London, England.
26. September 30: The balloons are prepared for flight during a festival in the National Park Well of Harod, Israel.
27. October 3: One participant of the World Beard and Moustache Championships poses for a photo in Leogang, Austria.
28. October 21: A Syrian is photographed while waiting to cross the border with Croatia, near the Serbian village of Berkasovo.
29. Unknown date: A woman dressed in a Superman costume jumps in the port of Carnlough in Northern Ireland
(Visited 19 times, 1 visits today)