A Rare albino turtle found on Australia beach this week. Voluntary biologists come every year to observe the birth of this protected species. This year, a group from Coolum (South Eastern Australia) has the surprise of discovering a white baby turtle. It is equally rare to come across an albino turtle. "It was not sick, just white. It rushed into the water and disappeared with enthusiasm. It was beautiful. I saw its fins were pink, as if the blood surfaced in the skin. I hope it will survive in the wild, "said Jayne Walton, who photographed the animal.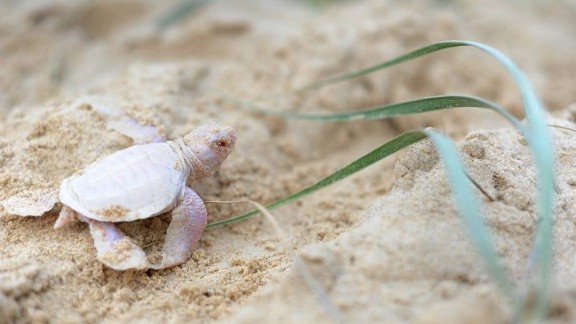 The small turtle has been nicknamed Alby (Latin alba means "white"). We really hope Alby will survive to adulthood, says one of the scientists. One of the reasons green sea turtles lay many eggs it is because mortality of the species is very high: only one baby turtle in 1000 reached adulthood. A marine green turtle, weighs between 80 and 130 kilos, reaches maturity between the ages of 8 and 13 years.
Marine green turtle is not as slow as its terrestrial cousins. It can reach a speed of 35 km / hour in the water. The albino turtles are very rare in nature. This genetic disorder results in an absence of melanin. This organic pigment gives color (and camouflage) to certain animals such as reptiles. An all-white turtle is more vulnerable to predators, without counting the diseases like cancer affecting turtles. It remains only to wish good luck to Alby.
(Visited 37 times, 1 visits today)