Survival is the fact of staying or remaining alive following an incident that should cause death. Throughout history people have survived incredible accidents that defy explanation.
Discover 10 most amazing survival histories in human story.
1.George H. W. Bush, Survivor of the Chichijima Incident
Also called Ogasawa incident, Chichijima incident is an event that occurred in the year 1944 on Peel Island, located 700 miles south of Tokyo. Japanese soldiers tortured and beheaded five of the American airmen, and ate parts of the bodies of four. But nine managed to evade.
At the end, George H. W. Bush was the only one who survived the incident by escaping from his plane after being shot down during bombing raids on Chichi Jima. Very few details are given on his escape…  The Ex republican president was just 20 years old when the Ogasawa incident occurred.
2.Aron Ralston, Survivor of an Extreme Canyoneering Accident in Utah

Aron Lee Ralston is an Indiana mountaineer who became famous in May 2003 when trapped in the depths of a canyon for six days and five nights while hiking in the canyons of Utah. His incident was adapted for the film 127 hours directed by Danny Boyle in 2010.
While hiking Aron fell and a 360 kg dislodged boulder fell on his forearm. After five days trapped, he exhausted his entire food reserves; Ralston is obligated to amputate his own arm with a dull pocket knife in order to free himself. Indeed, after the sacrifice he was rescued by hikers as he was trying to reach his car.
3.Juana Maria, Survived Alone on Nicolas Island
The story of Juana Maria, also known as Lone Woman of San Nicolas Island, is one of the most fascinating survival events in human history.  Following a dispute between the Nicoleño Tribe and Russian trappers, the entire Indians left their San Nicolas Island to take refuge aboard.
Sadly, the boat leaves without Juana. By the time the crew realized it, a strong storm arose; returning could be fatal for all of them; they decided to leave her. She would be found 18 years later by fishermen, dressed in a skirt made of greenish cormorant feathers.
She had survived in a hut built with whale bones. Juana Maria died on October 18, 1853, in California. She was the last survivor of that tribe.
4.Juliane Koepcke, LANSA Flight 508

On December 24, 1971, nearly 40 minutes after take-off, the LANSA Flight 508 started getting hit by strong turbulence and lightning. After flying for 20 minutes in the dangerous zone, the right wing of the aircraft caught fire, causing it to crash.
The airplane crashed in a thunderstorm en route from Lima, Peru to Pucallpa, Peru. 91 people, all 6 of its crew and 85 of its 86 passengers, died, except the then 17-year-old German Peruvian teenager, Juliane Koepcke. Juliane fell 10,000 ft (about 2 miles) down into the Amazon rainforest.
Amazingly she survived the fall, and remained in the jungle for 10 days until she was rescued by local lumbermen. She has fully recovered and studied biology.  She now working in Peru as a researcher in mammalogy, specializing in bats.
5.Aristodemus, Survivor of the Battle of Thermopylae
In Greek mythology, Aristodemus was the son of Aristomachus. The Battle of Thermopylae, August 11, 480 BC, opposed the Greek to the Achaemenid Empire. The Greek army tried to hold the great Persian army of the Great King Xerxes I at the entrance of the passage of Thermopylae which controls access of central Greece, along the Aegean Sea.
The Battle of Thermopylae was one of the most famous in antiquity. 300 Spartans, one of the most feared military forces in the Greek world, went to battle; Aristodemus has been the last survivor. It is not because he fought the enemy, but rather because he was exempted from battle due to illness. However, he was considered a coward by his countrymen.
6.Millvina Dean, Survivor of the Titanic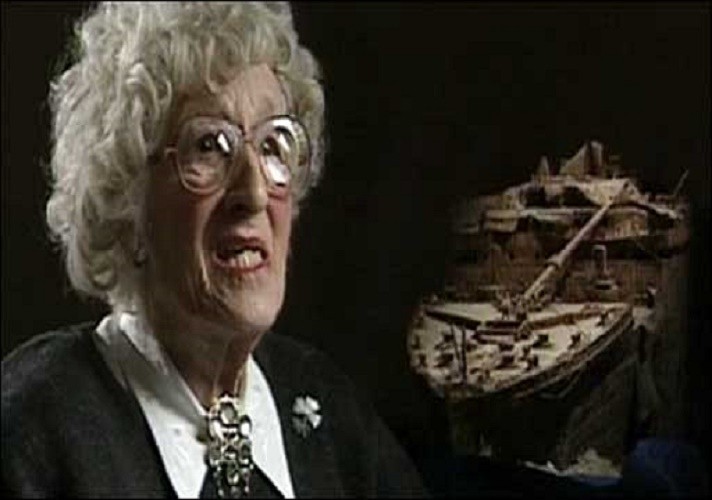 Elizabeth Gladys Dean, known as "Millvina Dean", is the last survivor of the sinking of the Titanic which happened in 1912. Upon boarding, she was the youngest passenger on board, then being two months old.
She was traveling with her parents and older brother. The family had sold all their possessions in England and wanted to open a tobacconist shop in Kansas, USA. The father died in the disaster, the three survivors return to England.
She received an education funded by charitable organizations for survivors of the disaster and then held various professions: employee of a mechanical business, secretary and, during World War, cartographer. She died of pneumonia in Hampshire, England, on May 31, 2009, at age 97.
7.Cecelia Cichan, Only Survivor the Northwest Airlines Flight 255
On August 16, 1987 at 20:45, a Northwest Airlines MD-80, flight 255, crashed shortly after taking off at Detroit to Phoenix, United States. The crash caused the death of 154 of the 155 occupants of the aircraft and two motorists.
The only survivor was a 4-year-old girl, Cecelia Cichan, who was found in her chair a few hours after the incident. Rescuers found her traumatized and injured. But today she has no memory of that tragic day when she lost her mother, father and his big brother.
(Visited 138 times, 1 visits today)