The birth of a loving child is one of the most joyful days in the life of parents. It's like they contemplate the continuity of their own life in the innocent smile of the newborn. But for some parents, they give birth to their own killer. Discover 7 Darkest Cases of Children Who Brutally Killed Their Parents
1. Christopher Porco (born July 9, 1983)
Christopher Porco is a convicted murderer, currently imprisoned for killing his father and second-degree attempted murder in the severe wounding and disfigurement of his mother with a fireman's axe.
Although survived the attack (November 15, 2004), Joan, Christopher's mother, spent some time in a coma, and has lost her left eye and a portion of her skull.
The case against Porco received extensive coverage in local newspapers, including the Times Union and Spotlight newspapers. The case was also the subject of a one-hour documentary on 48 Hours Mystery entitled "Memory of Murder", broadcast by CBS, TruTV, and Forensic Files.
On December 12, 2006, Judge Jeffrey Berry sentenced Porco to 50 years to life on each count totaling a minimum of 50 years in prison. Judge Berry was quoted as saying, "I fear very much what happened in the early morning hours of November 15 is something that could happen again."
2. Brian Mark Blackwell (born 1986 in West Lancashire)
Brian Mark Blackwell is a heartless murderer from England. On 25 July 2004, he killed his parents – 72-year-old Sydney and 61-year-old Jacqueline – at their home in Melling, England. He killed them after they became suspicious about his increasingly lavish lifestyle and began asking him questions about it.
After the killing, medical experts diagnosed Blackwell as having narcissistic personality disorder, which is characterized by extreme feelings of self-importance, a high need for admiration, and a lack of empathy.
Blackwell was charged with murder and was due to stand trial with possibility of death sentence; however, that charge was dropped due to his diagnosis "narcissistic personality disorder". At the end, he was sentenced to life imprisonment on 29 June 2005.
3. David Brom (born October 3, 1971)
David Brom is an American mass murderer. He killed his parents, brother and sister with an axe in February 1988, near Rochester, Minnesota. All four individuals had sustained numerous gashes in the head and upper body.
In the early evening of February 18, 1988, Olmsted County sheriff's deputies discovered the bodies of
Bernard (43), Paulette (42), Diane (13), and Richard Brom (11) in the Brom family home. Police found a blood-stained axe in the basement which was used to kill all four victims.
Brom was captured on February 19, 1988 while using a pay phone near the local post office. On October 16, 1989, he was convicted of first degree murder and was given 3 consecutive life sentences. He will be eligible for release in 2041.
4. Andrew Wamsley (born July 7, 1984)
Andrew Wamsley is a criminal from Texas who murdered his parents, Rick and Suzanna Wamsley on December 11, 2003. Along with his girlfriend Chelsea Richardson, and friend Susana, He shot and stabbed the victims to death in their home.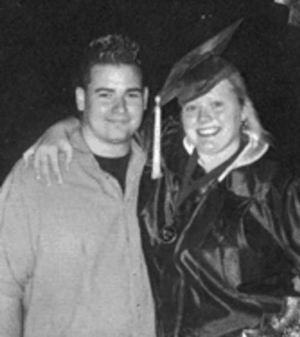 The murders were part of a scheme orchestrated by Andrew Wamsley and his team to collect on his parents' $1.65 million estate. The three conspirators also wanted to kill Andrew's older sister Sarah, but she was not home on the night of the murders.
Andrew Wamsley was convicted of capital murder on March 5, 2006. Although he faced the death penalty, the jurors did not view Andrew as a future danger to society and sentenced him to life in prison. He is now is serving his sentence at the John B. Connally Unit in Kenedy, Texas
5. Seth Privacky (June 2, 1980 – July 15, 2010)
Seth Privacky was an American mass murderer who was convicted of five counts of murder at the age of 18 for the shooting of his parents, brother, brother's girlfriend and his grandfather in Muskegon, Michigan on November 29, 1998.
On November 29, 1988, the Privacky family was getting together for a Thanksgiving dinner. While 19-year-old Jed Privacky was watching television, Seth grabbed their father's .22-caliber Ruger and shot him.
When Seth's father and grandfather returned home, he fatally welcomed both of them. His mother shot dead while getting out shower. Jed's girlfriend, April Boss, was also killed after she showed up unexpectedly and saw Seth handling the bodies.
Seth Privacky was convicted on five counts of murder and given a life sentence. But On July 15, 2010, while in prison, Privacky and two other inmates overpowered the driver of a facilities semi-truck around 9:10 a.m. (ET) and tried to drive it through the double fence. Guards quickly apprehended two of the inmates but Privacky tried to flee the truck once it stopped and was fatally shot.
6. Ashton Sachs
Ashton Sachs is a California teenager who deliberately shot to death his parents, Andra, 54, and Brad, 57, in their sleep in February 2014. He also shot Landon, 8, although survived, but who is now paralyzed.
Sachs remained free of charge until a month later after the killings. "Investigators didn't initially suspect him because his parents had a long list of enemies and were the frequent subjects of lawsuits. The parents were business partners who owned several homes in Mexico and the U.S."
Ashton confessed to the killings and told police he suffered from "a lot of problems." He also said he plotted the killings for days before the Feb. 9 shootings. He wanted his parents "to die for everything he felt."
Ashton is being held in solitary confinement at the Orange County Central Men's Jail. Prosecutors have not said whether they will ask for the death penalty.
7. Lowell Lee Andrews (1939 or 1940 – November 30, 1962)
Lowell Lee Andrews was a sophomore in the University of Kansas, zoology major who played bassoon in the college band. He was convicted of the murders of his parents and his sister on November 28, 1958.
Andrews' his sister, Jennie Marie, and his parents were watching television while Andrews was upstairs reading The Brothers Karamazov. When finished, He shaved, put on a suit, and went downstairs carrying a .22 caliber rifle and a revolver. He shot his sister, Jennie Marie, 20, between the eyes, killing her instantly.
He then turned the gun on his parents, shooting his father, William, 50, twice and mother, Opal, 41, three times. His mother moved towards him and he shot her another three times. His father attempted to crawl to the kitchen and was shot repeatedly with the revolver. Andrews fired a total of 17 shots into his father.
Andrews pleaded not guilty by reason of insanity but was convicted and sentenced to death. Despite appeals, the U.S. Supreme Court let the conviction stand and the State of Kansas executed Andrews by hanging on November 30, 1962 at the age of 22. He gave no last words.
(Visited 67 times, 1 visits today)