Mediocre former-49ers Quarterback Colin Kaepernick became the most hated man in the NFL last season, which is quite a feat in a sport filled with wife-beaters and convicts, when he knelt as the National Anthem was played. Now, after talking with Kaepernick, another NFL star has decided to give America the middle finger.
Eric Reid isn't exactly a household name at the moment, even among NFL fans, but he's about to be for all of the wrong reasons. As The WildCard notes, Reid is an above average safety for the San Francisco 49ers who made the Pro Bowl in 2013. Most notably, though, he made headlines last season after becoming the first NFL player to kneel alongside Colin Kaepernick as a form of protest during the National Anthem.
Reid seemed to change his tune at the outset of this season, claiming his message had been lost amid controversy. However, his change of heart lasted all of two weeks. Reid went back on his word and knelt for the National Anthem on Sunday before the 49ers' 32-31 loss to the Minnesota Vikings in Week 3 of the preseason. Call it karma.
Eric Reid kneels during the national anthem with support from his teammates. Reid told reporters after the game that he changed his mind after speaking with Kaepernick. "I just had a change of heart," said Reid. "A lot of thinking, a lot of praying, talking to Colin [Kaepernick]. When we started last year, if you recall, our goal was to raise awareness and shed light on the issues that were happening in our country. I think we accomplished that," he continued.
"What I was upset about was the false narratives that were being told about us, people were saying we're un-American, that we're against police entirely and the military. And that just wasn't true," added Reid. "At first, I thought that was a small sacrifice to pay to get the word out to raise awareness, and I settled with thinking that raising that awareness was victory."
Reid said his decision to return to kneeling for the anthem was inspired, in part, by the violence in Charlottesville, Virginia, earlier this month. Protests erupted over a white nationalist rally dubbed "Unite the Right," which was held on the UVA campus. As demonstrators from groups like Antifa and Black Lives Matter came out, one woman was ultimately killed and nineteen others were injured.
"Then fast-forward to Charlottesville, and the country sees what an un-American protest really looks like," said Reid. "That's when I had my change of heart, because what Colin, Eli and I did was a peaceful protest fueled by faith in God to help make our country a better place," he told reporters, according to ESPN.
"And I feel like I needed to regain control of that narrative and not let people say that what we're doing is un-American, because it's not," Reid continued. "It's completely American. We're doing it because we want equality for everyone. We want our country to be a better place, so that's why I decided to resume the protest."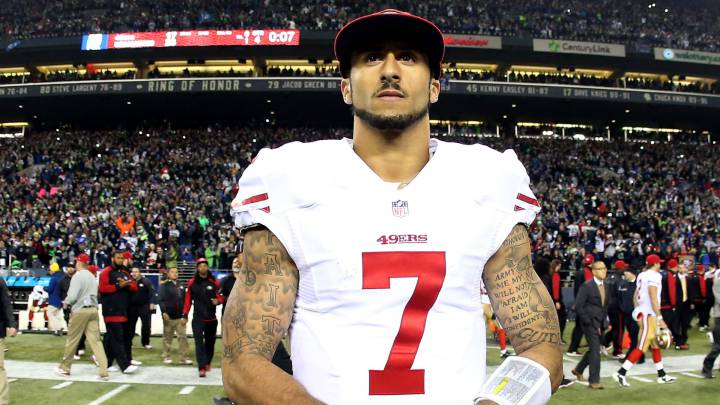 "We want our president to be a president and not threaten to shut down the government over a wall," said Reid. "So, I think our goal is to just keep talking about it. Hopefully, we … inspire people to do something about it through our protests. And this isn't something that's new. I've learned a lot of things throughout the past year about athletes that have talked about the same things that we're talking about. So, the goal is to just create some change."
Reid and his ilk suffer from a common syndrome among celebrities and overpaid athletes; namely, they seem to be under the impression that the rest of us salivate over their political views. Because they have a platform, they seem to believe, they should impart their progressive "wisdom" on the rest of us. Truth be told, there is probably no one more out-of-touch with the values of everyday Americans than Reid and Kaepernick, both of whom would do well to shut their mouths, place their hands over their hearts, and honor our country by standing during the National Anthem.
(Visited 16 times, 1 visits today)