Discovery always causes sensation. This is even more sensational when it is a valuable treasure. We have searched and combined 10 most incredible recent treasures found around the world which are worth millions of dollars; some by professional treasure hunters, others by lucky individuals while doing ordinary things.
Have you ever thought that maybe you could be the next person to discover a treasure? Get inspired by these people; you may have a treasure in your backyard waiting for you right now. Perhaps the next time you're on vacation, go diving or working on your yard you may stumble on a precious treasure.
In this post, you will learn about 10 of the world most valuable treasures recently found around the world.
Mystery Civilization Atrtefacts
In China's southwestern province of Sichuan, 500 refined pieces were uncovered at an archaeological site called Sanxingdui during a colossal excavation. When they began the dig in 2019 there was no apparent connection to Chinese culture and this unknown civilization was believed to be technologically advanced as well as economically successful. The majority of the items were crafted in jade, ivory, bronze and gold. The Sanxingdui team were working in 6 sacrificial pits and found an assortment of items but among them was a gold mask fragment that was probably worn by a priest during religious rituals. The mask fragment weighed 0.6 pounds but in its entirety most likely weighed 1.0 pound making it one of the heaviest gold mask discovered in China from around 316 BC.
Tomb Artefacts NW China
In Dulan county, China's northwestern province of Qinghai artifacts were exhumed from a tomb. They were from the middle of the Tang Dynasty or the 8th century. There were 646 relics stolen from the tomb in 2018. Since then, more than 1000 pieces have been discovered in Xuewei Tomb #1. This find indicates that this province was a crucial hub. The artefacts included glass, textiles and silverware with craftmanship featuring Central and West Asians. The archaeologists were impressed on how structurally intact the tomb was after so many years. The multi chamber tomb consisted of both an underground level and a ground level. The structure was made of wood and rock. There were animals such as antelopes, cows and horses that were buried in what appeared to be a sacrifice pit inside the tomb.
Zhou Dynasty Gold Relics
There continues to be a wealth of artefacts found in China's provinces. A rare gold relic was unearthed by archaeologists in the northwest province of Shaanxi. There were weapons and vessels found but the gold sceptre relic was believed to be more than 2500 years old. It was an authority symbol in the feudal state called Rui and it was from the time of the Zhou dynasty (1046-256BC). Most of the sceptres found in China were made out of stone and perhaps a few were copper but this was the first time they found a sceptre in China made out of gold.
Denmark Iron Age Gold Hoard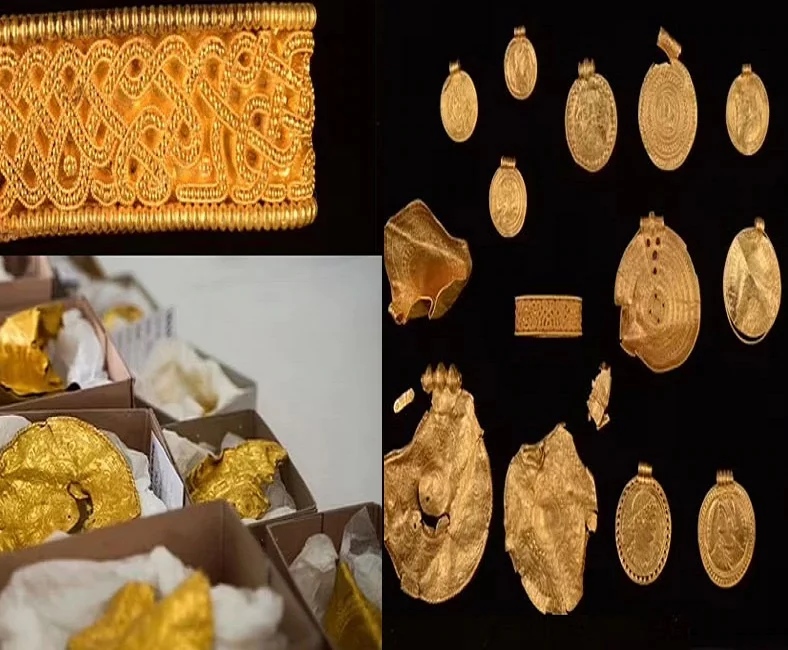 One of the most beautiful and richest gold treasures in Danish history so far was discovered by an amateur detectorists named Ole Ginnerup Schytz. The newcomer was in VIndelev near the Danish town of Jelling on a friend's land using his newly acquired metal detector. After only a couple of hours, he made a discovery that led a team of archaeologists from the National Museum to excavate. It was an enormous find with bracteates, coins and there were huge medallions that were thicker than normal and the size of saucers. This gold had been buried 1500 years ago and experts believe it was an offering to the Gods or it was buried to be used during a time of war.
Ancient Sunken City Thonis-Heracleion
Thonis-Heracleion was the ancient sunken city and Egypt's biggest Mediterranean port prior to Alexandria being founded in 331 BCE by Alexandre the Great. On Egypt's coast, archaeologists led by French Marine Franck Goddio uncovered Greek ceramics and a 2400-year-old wicker basket filled with grape seeds and duom fruit which is from an African palm tree. They found a large tumulus which is a Greek funerary. It was along the Northeast entrance of the canal which was covered with elaborate funerary offerings. The tumulus was approximately 26 feet wide, 197 feet long and the offerings dated back to the beginning of the 4th century. No objects were found earlier than the 4th century which led experts to believe the place must have been sealed for hundreds of years although there were inhabitants for several years after that.
Gold from the Fall of the Roman Empire
Cesar Gimeno Alcala and Luis Lens Pardo were two amateur divers and also brother in laws that discovered a gold hoard while vacationing in Xabia. This hotspot for tourists is located off the Mediterranean coast. They wanted to pick up trash to beautify the area so they rented snorkeling equipment. While freediving they noticed something shimmering at the bottom of the Portitxol Bay. Lens Pardo found a coin that had an ancient image that looked like the face of a Greek or Roman. The men were very curious and returned to the hole with a Swiss army knife and dug up a total of 8 coins. They reported the coins to the authorities and an excavation team came together and found more coins dating between 364 and 408 when the western Roman Empire was declining. There was a treasure of 53 gold coins in that hole. The Roman emperors depicted on them included Valentinian I and II, Theodosius 1, Honarius, Arcadius and one coin was unidentified.
Golden Sun Bowl
An ancient settlement dating from1300-1000 BC was found by archaeologists conducting a dig in Ebreichsdorf, Austria where they uncovered the golden sun bowl. The bowl depicts rays of the sun and has a slender layer of metals consisting of 5% gold, 5% copper and 90% gold. The inside of the bowl had clusters of organic material and fabric sewn with gold thread which was coiled golden wire. There have only been approximately 30 golden bowls like this discovered throughout Europe and the bowl was the first of its kind in Austria. Approximately 500 objects have been discovered since the excavation began in 2019. They have unearthed daggers, ceramic clay vessels, animal bones, shells and knives. There have been suggestions that during religious rituals the inhabitants of the area threw these items in the water in a swamp or dried up riverbed.
Israeli Waters Reveals Treasures
The worst storm of the century swept the eastern Mediterranean in December 2010 with waves 17 meters high and horrific winds causing tons of changes to the coastline and had an extreme impact on the landscape and sand. New areas were exposed by the storm and emerged from the waters which enabled them to find shipwrecks in areas near Caesarea. It was as a significant port city during the Roman and Byzantine era. This is one of the wealthiest sites for archaeology in Israel and they had found a synagogue, a theater and the port itself. This excavation uncovered 2,000 gold coins and was the largest hoard of gold coins dating back 1,000 years. A thick layer of sand protected the coins and other treasures from being seen, stolen and they were well preserved.
500-Year-Old Shipwreck
On a very small island called Stora Ekon at the south end of Sweden, a platform full of archaeologists and divers went to explore a wrecked ship called Gribshunden. For more than 500 years this floating castle served as the royal flagship of King Hans of Denmark. According to historical records the king was not aboard the ship when it sank the summer of 1495 with Danish noblemen and soldiers. The wood of a ship is normally eaten away by shipworms so you rarely find a shipwreck from this period. Fortunately, shipworms do not survive in the fresh waters of the Baltic so this vessel and the contents were well preserved. Scuba divers found the wreckage in 1971 but never reported it to the authorities until 2001 after scavenging small finds. Evidence shows that this was a war ship and the king's home including his entire household was on board as well as items indicating the presence of women and children. The relics included a fragmented crossbow, a unique hand cannon, barrels of fish and beer, a child sized hauberk, a toy cannon and a spindle whorl.
Santa Margarita Gold Chalice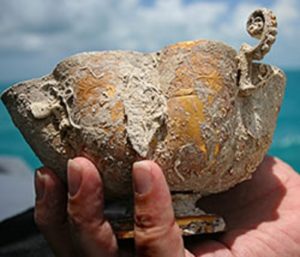 In June 2008, a diver off of the Florida Keys that was involved in searching the Santa Margarita shipwreck discovered a gold chalice with his metal detector. When it went off he thought he had found a discarded beer can. As it turns out, the gold chalice was lost in the shipwreck and it was sold at a New York auction in 2015 for $413,000.
Please comment and share the article with your friends or on your social media page to support us.

(Visited 80 times, 1 visits today)