What appeared to be a normal routine traffic stop turned out to be a multi-million dollar drug bust, cash, and weapon raids. Money motivates organized crimes, which were one of the most violent forms of crime on the streets. Several drug-related criminals were apprehended by frequent traffic routines and raids by the authorities. Here, we list down the top 10 largest police stops and raid finds in history.
Massive quantities of cocaine, fentanyl, and .50-caliber ammunition were recovered, along with $3.5 million in cash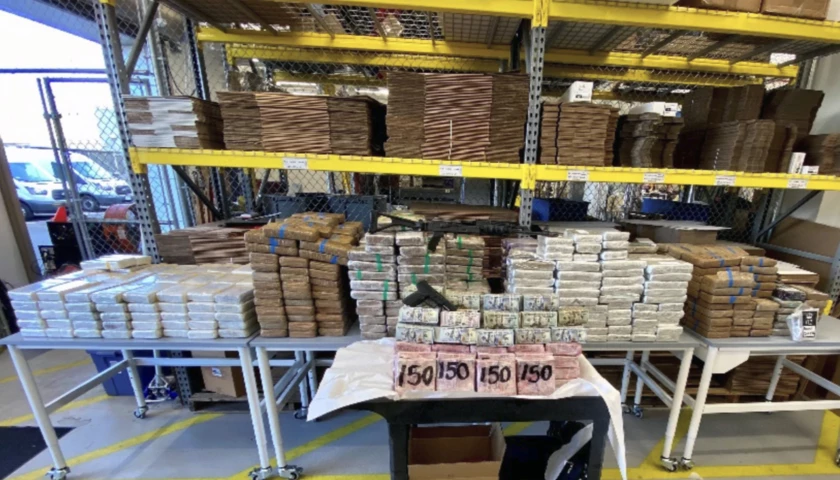 The United States Attorney's Office announced Tuesday that three Mexican nationals linked to cross-border trucking enterprises were charged in federal court in San Diego after a significant cache of drugs, cash, and ammunition was discovered at an Otay Mesa truck yard. Authorities claimed that this collection belonged to the Sinaloa cartel. The three men arrested, Jesus Burgos Arias of Chula Vista and Juan Alatorre Venegas, and Jose Yee Perez of Tijuana, are accused of selling drugs on behalf of the organization. Agents observed Burgos and Jorge Valenzuela at a Long Beach airport on Oct. 15, 2021 as they prepared to board a private plane with eight luggage. According to the affidavit, the pilot examined the contents of one piece of luggage and discovered what appeared to be blocks of cocaine wrapped in plastic. Valenzuela was apprehended outside of Boston on Oct. 29 after boarding a trip from San Diego to the East Coast. Federal investigators said the haul, which included $3.5 million in cash, 685 kilos of cocaine, 24 kilograms of fentanyl, 20,000 rounds of.50-caliber ammunition, and hundreds of body armor vests, was the largest of its type in the Southern District of California.
2. Kansas traffic stop uncovers $3.7 million worth of meth from Texas Teens
At 11:50 p.m. of September 20, 2021, a 2006 Chevy Silverado was stopped in the 400 block of Main St. in Neodesha, according to officials for overspeeding. Teens – Alejandro Salazar, 19, of Dallas, Texas, and Roger Mercado, 19, of Garland, Texas, were detained late Wednesday night in Wilson County, according to the Kansas Bureau of Investigation. Officers established probable cause to search the vehicle during the stop and discovered 82 pounds of methamphetamine. The medicines had a street worth of $3.7 million. Salazar and Mercado were charged with methamphetamine possession with the intent to sell and drug paraphernalia possession. While Salazar is also facing a charge of driving without a valid license.
3. A traffic stop in Bucks County leads to a $4 million drug bust
According to officials, on January 29, 2021, around 11:30 p.m., police noticed a Jeep driving all over the place near Dublin Pike. Christian Ochoa, 28, and Edith Cardenas, 27, were behind the wheel. When they pulled over the vehicle, they discovered drugs and cash. Both have been linked to a tractor-trailer driven from California to Allentown, Lehigh County, where they discovered 10 kilograms of heroin and fentanyl worth around $3 million on the street. arrested with the intent to sell drugs. They also discovered nine kilograms of cocaine or fentanyl worth up to $900,000 on the street, as well as other drugs, cell phones, and a gun. According to officials, the total street value of both seizures is around $4 million or more.
4. Cops are taken aback after discovering AU $4.1 million in a random traffic stop
A male resident of New South Wales, whose identity has yet to be revealed, was arrested and charged with money laundering after a routine traffic stop revealed that his car's trunk contained two suitcases containing AU$4.1 million, or roughly $3 million in US dollars. Individuals carrying sums of money exceeding AU$10,000 ($7,200) must declare such amounts to authorities, according to the Australian government. The incident occurred around 5 a.m. in the southern Brisbane suburb of Calamvale, Queensland on November 20, 2021. Video footage is later released by Queensland police along with a statement on November 22 of 2021. According to police, the suspect has also been charged with failing to comply with the country's COVID-19 public health directives, which have severely restricted freedom of movement in an effort to contain the coronavirus pandemic.
5. Queensland cops' routine traffic stop discover $4.35 million stowed inside a car
After a routine traffic stop turned up $4.35 million in cash in his car, a Brisbane man was granted bail on a tainted property charge. Simon Andrew Cross, 37, was pulled over on the Pacific Motorway at Eight Mile Plains on Tuesday morning, July 7, 2020, according to police. A check of his car discovered $1.75 million in cash stacked inside a suitcase and $2.61 million in a cardboard box, according to the Brisbane Magistrates Court. The inquiry into the "origin" of the money is still underway, but Mr. Cross has been charged with one count of receiving tainted property. Mr. Cross's lawyer said that his client had no criminal background and that he had cooperated with the authorities.
6. One of the largest cash seizures in British history yielded £5 million
After watching an address at Porteus Apartments in Fulham in June last year, Met police stormed in and grabbed Ruslan Shamsutdinov red-handed. A thief was seen attempting to tote around bags loaded with cash, more than £5 million was discovered in one of Britain's greatest cash recoveries. Sergejs Auzins, a large-scale money launderer, was depositing large sums of money at the flat, which detectives were watching on Friday, June 5, 2020, when Shamsutdinov was seen heaving the bags towards a parked car. A check of the 36-year-baggage old's and flat after he was apprehended yielded £5,082,026.17. Shamsutdinov's property in Hackney, east London, yielded another 39,000 Euros and £8,038.81.
7. Force's highest single cash seizure of £5 million was collected by Met Police
The Metropolitan Police have recovered more than £5 million from a criminal group in Fulham, making it the force's highest single cash haul. Police said that cash was discovered hidden in plastic shopping bags under a bed and in bundles on the apartment's floor. The seizure is expected to disrupt a lot of criminal organizations and is one of the largest in the country's history, according to police. It came after a London-wide investigation targeting firearms and drug distribution, which resulted in three individuals being convicted.  The three men pled guilty to conspiring to conceal and remove illicit property. Auzins, 46, was given a three-year and four-month term. Ahmadi, 35, was sentenced to 150 hours of unpaid work and was given a one-year and eight-month suspended prison sentence. Shamsutdinov, 36, of Hackney, east London, was sentenced to three years and nine months in prison at Harrow Crown Court.
8. Rochester money launderer, was sentenced following the Met Police's largest-ever single cash seizure
A large-scale money launderer from Rochester was one of three men sentenced following the Met Police's largest-ever single cash seizure. During the operation, Sergejs Auzins, a large-scale money launderer from Rochester, was observed transporting large sums of cash to a Fulham address. Additional cash and a well-organized money laundering operation were discovered during a search of the apartment. Officers from the Met's Specialist Crime Command seized more than £5 million as a result of the operation, which focused on firearms offenses and large-scale drug distribution throughout the capital.
9. More than $10 million in suspected drug money was discovered in North Reading swoop
The narrative began in June 2013 with the arrest of 78-year-old Marshall Dion in Kansas for driving 79 miles per hour in a 75-mile-per-hour zone. Dion claimed in a search warrant affidavit that his only source of income was his social security check of less than $690. However, suspicious officers requested and were granted permission to search his truck. They discovered $828,220 in cash, as well as records to a bank account in his name containing approximately $1.9 million in cash – a total of nearly $3 million. Authorities also found GPS device which showed different pinned locations of Dion from months ago. Dion has also a long list of criminal records from the law way back 1974 to 1985 on narcotic drug violations, police bribing, and cash laundering.
10. Police discover $206 million in drug cash in a Mexican home
Police discovered $206 million in cash piled inside a mansion in a wealthy Mexico City neighborhood on Thursday, March 15, 2007. The cash belonged to drug smugglers who imported chemicals used to make methamphetamines. According to the attorney general's office, the raid was the result of an investigation that began last December when police seized 19.5 tons of pseudoephedrine in Mexico's Lazaro Cardenas port. Seven people were apprehended by police at the house location. They discovered the pile of cash worth hundreds of dollars stuffed in drawers, suitcases, and closets throughout the house. They also seized six Mercedes Benz vehicles and two other cars, as well as seven firearms, 200,000 euros, and tablet-making machinery.
Frequent police inspections and traffic routines are necessary to combat criminals related to money laundering, drugs, and firearms. Chains of criminal organizations have been traced and barred by meek police stops on the streets.
(Visited 49 times, 1 visits today)