6 Amazing Future Cars
As we move towards an autonomous and artificially intelligent automotive world, advances in technology are becoming more and more amazing. The competition is high among automobile engineering and companies manufacturing these future cars. This article will present 5 top automotive technologies that will considerably change the way we drive in the near future.

1. BMW HoloActive Touch

BMW presented a breath taking future interior technology during the 2017 edition of the CES with the HoloActive cockpit concept. This new user interface is inspired by certain technologies presented by BMW during the last two editions of the Consumer Electronics Show (CES) in Las Vegas. It combines gestural control with an infotainment (intended both to entertain and to inform) screen using the same technology as head-up displays to create holographic interfaces.
BMW also used the consumer electronics show to present a stand-alone version of their all-new 2017 BMW 5 Series future cars.
2. Bosch Automotive Cockpit of the Future
Bosch designed its own concept car showing its perception on the future of car interiors. The new concept has a camera that recognizes each individual on board and carries out the settings of the car according to their preferences. This is "a personal assistant on four wheels ," as one critic says. It will also adjust the temperature of the car according to the driver and broadcast his favorite music.
Thanks to its intelligent parking assistant, the vehicle will alleviate the problem of finding a parking in any city. Currently in partnership with Mercedes, the system uses ultrasonic sensors to detect available locations and measure space before transmitting this data to a digitized street plan to create a real-time parking pattern, helping other drivers that may be looking for a parking space.
3. Faraday Future FF91

This is perhaps the most surprising car technology of the CES 2017. About 12 months after the appearance of the magnificent FFZERO1 concept, the new electric car of the start-up Faraday Future showed its electric car FF91 is ready for production. The rival of the Tesla Model X is, according to Faraday Future, the fastest accelerating electric car in the world and has an autonomy of 604 km. Yes, 604 km!
The car exhibited a number of high-tech features, including facial recognition instead of key, cameras instead of mirrors and parking valet without driver. Production will begin in 2018.
See

7 Cool Cars of the Year
4. Hyundai Hydrogen Fuel Cell

Hyundai has somehow impressed the CES this year. During the show, the Korean manufacturer displayed many new technologies that it intends to incorporate into its future cars, among them the Hydrogen fuel cells.
The brand has confirmed a brand new SUV for 2018, which will be powered by a hydrogen fuel cell. It is in line with the current IX35 FCEV, but it will be a new model rather than an adaptation of an existing model. The company has also confirmed a partnership with the Cisco computer data giant to produce what it announces will be the " ultimate connected car – fully autonomous, remote maintenance, and connected to the home and workplaces of its owners.
Hyundai has also presented its solution against the violence of the road – a new concept of interior "well-being". It uses biometric technology to monitor the physical and mental state of the driver and reacts accordingly by adjusting the interior lighting, seating, noise, and even the smell.
5. Nissan Panasonic's Autonomous Cabin + Android in-car System
In his opening speech at CES 2017, Nissan CEO, Carlos Ghosn , told the audience the future cars of the company will bring, a "major technological breakthrough and partnerships " with the objective of delivering zero-emissions, zero-fatality mobility." Among the new features include Panasonic Autonomous Cabin Concept and Android in-car infotainment system.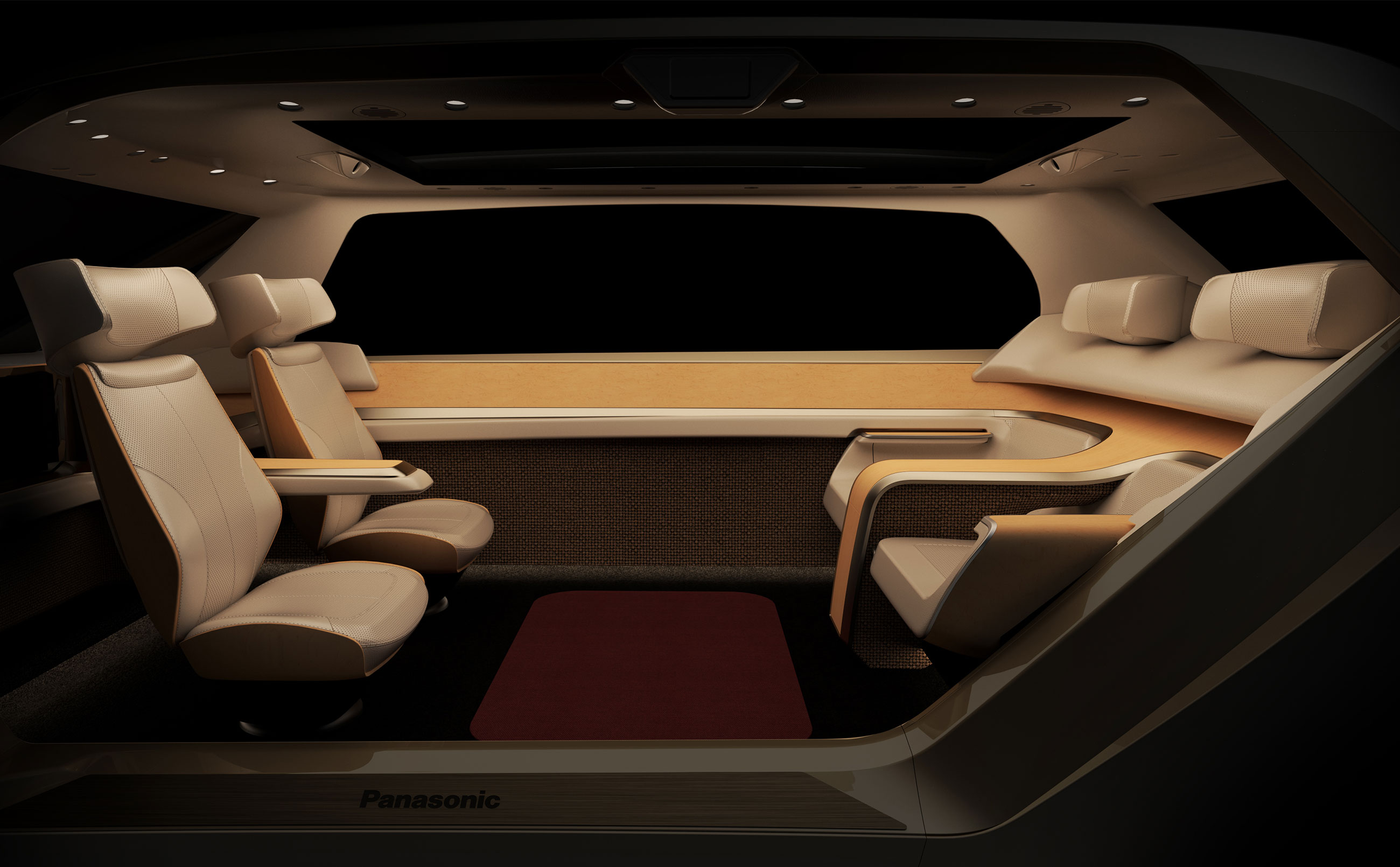 a) Panasonic Autonomous Cabin Concept – Panasonic displayed its vision of an Autonomous Car Cockpit at the 2017 CES. The four-seat concept is dominated by 4K interactive connected tables for all occupants but also features a mix of touch screens and augmented reality to ensure that traveling in a stand-alone car will be fun.
b) Android in-car infotainment system – Panasonic has revealed a new Android infotainment system for cars with Qualcomm. The system, according to Tom Gebhardt, president of Panasonic Automotive, North America,will be several generations ahead of existing systems".
Among the features that buyers can expect, there will be a Panasonic application on the new system that will help the driver manage navigation to find their destination and more easily find their personal music profiles. The partnership with Qualcomm will also allow Panasonic to shorten production times and reduce the initial cost of these cool cars. In short, all the features combined will enhance luxury and safety by reducing fatal car accidents .
6. Toyota Concept-i
Toyota also wowed his fans by unveiling a new concept car where its future vehicles would be friendly and full of attention to drivers. This is precisely what the giant automaker announced on January 5, 2017 at the 2017 Electronics Show Of Las Vegas (CES, Consumer Electronics Show). This revolutionary Toyota's Concept-i car illustrates the manufacturer's philosophy: the design of the vehicles of tomorrow will have to start with the users themselves.
Designed by Calty Design Research, Toyota's American style office in Newport Beach, California, Concept-i is based on user experience techniques developed by the Toyota Innovation Hub (San Francisco). It is based on the notion of "kinetic heat", according to which mobility technologies must be friendly, user-friendly and, above all, playful.
There is no such thing in life something for nothing. Each new technology comes with a price. These advanced cool cars will be expensive, thus not affordable for the mass. In addition, Insurance costs will be higher. But having one or not, we must confess they are amazing.
(Visited 85 times, 1 visits today)