10 online slots facts and myths
Online slots are the most played casino games, especially in online casinos where the offers are impressive and access is available 24/7 in the comfort of one's own home. Nowadays you can find hundreds of different online slot machines, of all styles, offering bonus to players. The temptation to play is high and pressing.
But as in all areas, there are certain techniques as well as true and false information of which you need to be aware. In this article, you will discover 10 facts and myths about online slots that will surely open your eyes.
Discover 10 online slots facts and myths that will shock you
Myth One
It I said that pulling a lever on a slot will give you better odds at winning rather than pressing a button. This is a myth.
Fact
Even though many people believe in the above myth as truth, the fact of the matter is, the myth is a big lie. Pulling a lever or pressing a button does not improve your odds of winning, because online slots operate on random number generators.
Myth Two

A popular saying among online slots gamblers says that it's easier to win on a three reel slot machine as compare to a five reel one.
Fact 
On a three reel slot machine, it seems pretty much easier to line up the symbols against the other but that doesn't make it easier for you to win. The odds of winning on each of the online slots are determined by random numbers or probability and they stay the same whether you are playing on a three reel or five reel machine.
Myth Three

You can easily rig the slot machine for it to produce the desirable results that are convenient for you. 
Fact 
The statement above is not true. To rig an online slot machine, you have to be a serious coder because you must be able to gain access to the sites internal files. Getting access to such files is not only a crime but also next to impossible because most online casinos do not mess around when it comes to security of their websites plus trying to rig the system is classified as fraud and you can get arrested and charged as a criminal for attempting it. 
Myth Four
Online Slots are programmed to run on specific pay-out sequences. 
Fact 
Again, this is another superficial myth with regards to online slots. Everything on an online slot machine is randomly generated and there's no system behind that tries to regulate what you can get out from the system. Every time you do a spin, the event is completely independent and not in any way related to the previous one.
Myth Five
You can't win twice in a role from a slot machine. 
Fact 
Again, this is a very untrue myth. Slots are controlled by nothing but just random generators. What this means is that if you are lucky, it's remotely possible for you to win twice or thrice in a role on an online slot.
Myth Six
There are people who believe that physical slot machines tend have better pay-outs than online based digital based machines.
Fact
To dispel this myth, I'll just have to go back and stress the point I've been stressing all along. Slot machines are based on random probabilities and therefore there's no evidence and clear proof that the payouts of digital machines are less as compared to the physical ones. Whether you are in a casino or in the comfort of your own home, the odds of winning are virtually the same.
Myth Seven
The more your money you wage, the higher the probability of you achieving a bigger payout.
Fact
This again is an untrue myth. Having more money to wager only increases your chances of winning because you will have more opportunities to play a wager and play. But the amount of money you wager does not in any way influence your final payout.
Myth Eight
For you to win more, you have to play more.
Fact
Statistically, this is a true myth if a different explanation is used. Playing more increases your opportunities of you scoring a win purely by luck. The machines do not record your total play time so that you can be rewarded based on that. Everything is purely random whether you have been playing continuously for 10s straight hours.
Myth Nine

You will get paid on certain time of the day. 
Fact 
This is a very untrue myth that I've heard being said by online gamblers time and again. The myth is very much untrue. Whatever time of the day you are playing, your odds of winning are still the same so long as the casino's servers will be up, you can still win equally in the evening as well as you can in the afternoon.
Myth Ten
You can't win 7 figures with online slots because many people use them.
Fact
Slots are hugely popular on betting sites which means that a lot of people score a lot of big wins on online slots every other day around the world. The biggest online slot win was recorded back in 2015 when Janathan Heywood won 13.2 million pounds on a machine after having placed an initial bet of just 25 pence. So, you can win as much as 20 million dollars on online slots, you just have to be lucky.
More on online slots games
Online slot games have many features and functionalities. First of all, regarding their appearance, they are characterized by:
Reels: The rolls are vertical elements composing the machine on which are backed the "symbols". The number of rolls is generally between 3 and 5.
Rows: usually 3, rows are the number of symbols that appear on the screen of the slot machine on a roll.
Lines: Lines represent the different wagering possibilities. Some slot machines may have more than 100 paylines.
Note that some machines do not have a conventional number of rollers and rows, Bruce Lee slot for instance. But these slots machines are rare.
Let's continue on the specifications of slot machine games:
Slot machines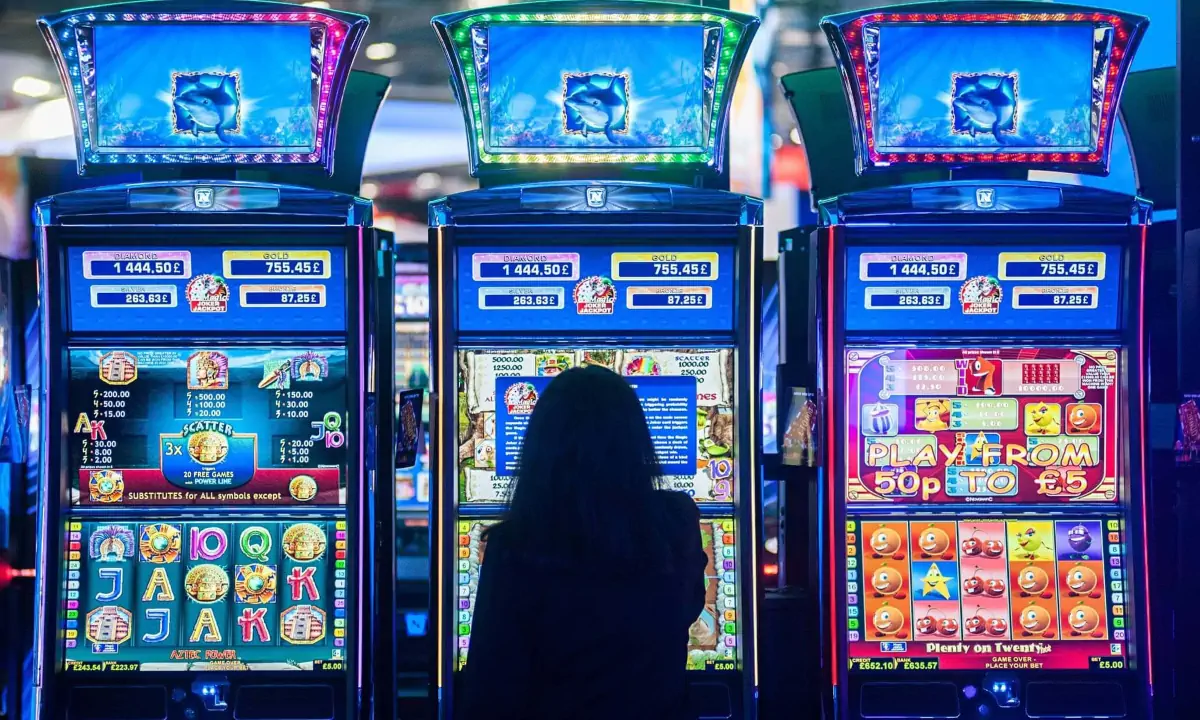 When you credit a slot machine, the amount of your deposit gives you a number of "coins", depending on a rate you choose (Coin Value). Once the values of your coins are determined, you can start betting. For the most complete slots with different paylines, you have to choose how many lines you want to bet.
Let's say you bet on the 25 lines of a slot machine.
You can then choose to wager a higher amount on each of these lines (bet per line). Generally this amount ranges from 1 to 5. So, if you choose a bet per line of 5 and you bet on 25 lines, your total bet will be 25 * 5 or 125 credits.
(Visited 31 times, 1 visits today)