Drug smuggling or drug trafficking is an illegal trade of psychotropic substances regulated by the various UN Conventions (1961, 1971 and 1988). Smuggling drugs include cocaine, marijuana, and others.
Historically, drug trafficking only appeared after the introduction of international legislation in the early twentieth century through international conventions (International Opium Convention of 1912, the League of Nations and the UN), however the psychotropic products market has long been considered lucrative.
Drug smuggling had undergone an explosion of demand in rich countries in the 1970s which would allow it to grow. In the 1990s, drug trafficking took a geopolitical dimension because of its globalization. Today, people smuggling drugs across the border, into prison, in airport, and other places in the United States as well as other countries; unfortunately, most of times, the traffickers do not succeed. Discover 7 Boldest Smuggling Attempts That Went Wrong.
1.Mr. Potato Head Containing 293 Grams of Ecstasy
The work of customs agents is not easy: they have to be on the lookout for anything that might be suspicious, and check if no one is trying to move illegal items into or out of the country. But smugglers use their imagination to come with new techniques every day. This figurine of Mr. Potato Head is not a child's toy. It was confiscated by Australian customs for having illegal drugs.
The Object seems suspicions to the authorities; they then perform some research. Voila! The so-called toy contained about 293 grams of ecstasy in it, and has been posted from Ireland.  As of today, we have no latest update if the sender was arrested by the police or not. Please Comment if you have any information
2.Drone Drop Heroin, Marijuana and Tobacco in Ohio Prison
I
n July 2014, a drone crashed in the Ohio prison. It was not crashed in ordinary location but in the Ohio prison yard, a high-security prison near Cleveland. It was carrying tobacco, cell phones, and prohibited drugs marijuana, heroin…
This time, July 29  (2015 at 2:33 p.m.), another drone successfully dropped a package which contains 144.5 grams of tobacco, 65.4 grams of marijuana, and 6.6 grams of heroin, according to JoEllen Smith, spokeswoman for the Ohio prison. An inmate picked up the package which led to a massive brawl and fight. But the drone was captured by surveillance cameras, allowing the prison authorities to later find the package after an extensive search.
Drone delivery is now a powerful tool, especially for illegal activities. The worst scenario is the fact children are sometimes the author of those incidents.
3.Woman Carrying Cocaine in her Dreadlocks
Thai police arrested a young South African woman in Bangkok airport for drug trafficking. Nobanda "Babsie" Nolubabalo, 23, hid 1.5 kilo of cocaine in her dreadlocks. She arrived on a flight from Sao Paulo via Doha, with cocaine hidden in her dreadlocks.
Thai police told the Bangkok Post they noticed a white substance in the hair of the young woman. In seeking in her braids they found 1.5 kilo of cocaine, which worth an estimated 4.5 million baht (126950.220 US Dollar). During interrogation, the suspect confessed to the police that she had hidden the drugs in her hair to bring it to a customer in a Bangkok hotel. For this service, she should receive 60,000 baht (1692.670 US Dollar).
Nobanda is the twelfth South African arrested in Thailand for drug trafficking during the last year. To stop trafficking, Thai law applies harsh penalties for drug trafficking offenses; for certain serious crimes, the verdict is clear: death penalty.
4. 150 Vials of Liquid Steroids

In 2008, while the authorities of the Australian customs clearance agents doing routine research, they find some bottles that apparently contain lubricating oils. They doubted the content, and looked deeper…
Indeed the 150 bottles of so-called "lubricating oil" containing liquid steroids coming from Thailand. The whole package was seized by customs. The vials, which contained the prohibited drug, were intercepted. To deceive customs, all the bottles were labeled as "gay lube oil". But in fact, they actually contained illegal performance drugs manufactured and sent from Thailand.
As of the whereabouts of the smuggler we have no reliable information. Please comment if you do.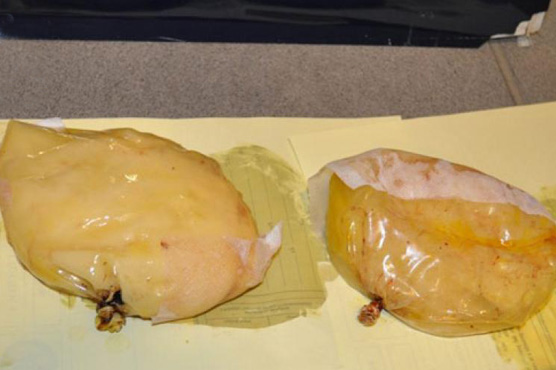 5.Honduran Woman Carries Cocaine in Her Breast Implant
A Honduran woman, Paola Deyanira Sabillon, 22, carried 3.3 lbs of liquid cocaine in her breast implants. She was arrested at the Bogota airport in Colombia while attempting to enter Spain with the narcotic.
Paola was acting weird which led the authorities to be suspicious and search her, according to the airport police, Colonel Diego Rosero. The search paid off! X-rays revealed Paola Deyanira Sabillon had a recent breast implant along with some strange substance. During interrogation, she confessed that the drug had been implanted in her breast to get delivered in Barcelona, Spain.
Paola was taken to a Bogota hospital where the implants were removed. She also receives medical care to treat an infection caused by the implantation.
6. 8 Year Old Boy Hidden in a Suitcase

An Ivorian 8 year old child was found in a suitcase at the Spanish border. The woman, 19 years old, carrying the baggage was controlled by the Spanish airport authorities while trying to cross Ceuta, a western Spanish border with Morocco.
While scanning the bag, the operator observed something strange, what appeared to be a person in the suitcase. When he opened it, he found a minor child in a terrible state. It was a boy claiming to be 8 years old and native of Ivory Coast. Fortunately the innocent child was not dead, and he was removed from the bag. The event occurred on May 9, 2015.
The young woman who was with him, not his mother, was arrested. A few hours later, the boy's father was detained while passing through customs. Originally also from Ivory Coast, but living in the Spanish Canary Islands.
7.Two Live Pigeons Attached to the Legs of a Man
Most of us love animals. In fact, having pets at home is even good for our health, according to many studies. But would you risk going to prison for 2 pigeons?
The answer is yes for this man. In 2009 Melbourne International Airport officers discovered two live pigeons attached to the legs of a man hidden under the pants.
The passenger was traveling to Dubai. He also had on him two bird eggs, plant seeds, and undeclared samples of eggplant. It's like he wanted to make the aircraft a flying farm. Unfortunately we do not have any information about the end of the history, if the man was arrested or not. Comment if you have some info…
(Visited 104 times, 1 visits today)