Deformity may occur due to many causes, ranging from genetic mutation to growth disorder. In this article, you will see 10 most shocking leg deformities ever recorded in medical history. 
Filipino Boy with Deformed Knees
Aldrin is an 11-year-old boy from the Philippines who was born with a leg deformity that prevents him from standing straight. He experiences pain when standing for more than 10 minutes; he is therefore able to walk only for a short distance. Worst, he got bullied by peers at his school.
But the boy and his family were determined to find a solution, and they did, in fact, did. The Tim Tebow Foundation intervened and operated Adrien. In 2014, The organization partnered with CURE International to open the Tebow CURE Hospital in Davao City, Philippines. Ever since, they performed more than 2,139 major surgeries for children in the country who would not be able to afford to pay.
An update from Aldrin's mom,⁠ Claire, shows a picture of him in school during their moving up ceremony. The mother says now he is doing well and currently in 7th grade. He is able to get around all by himself, like all other kids.
After the recovery, when questioned about the new life, Aldrin says:
"I have so many friends at home! And when I am not in school, I just play with my friends a lot! I also like to play with legos and build them together, because someday, I would like to become an engineer." 
Knees Bowed Inward
Jackson Kuetche is an African boy who was born with a congenital deformation called Bilateral valgus knees, a form of Valgus Deformity which causes the knees to bow inward, resulting in a knock-kneed appearance and putting extra pressure on the outer (lateral) section of the knee joint.  He was born normal but as he grew up the deformity started developing.
The condition makes it difficult and painful for Jackson to touch his ankles when his knees are together. He could not walk; he could only drag on the ground to move around. He was constantly bullied by other children at school. The condition became so serious that his parents asked him to stay at home.
One day his parents heard about a Handicap Treatment Centre called GLORES, located in Bafoussam. They went there and Jackson underwent surgery. His parents only paid an insignificant of the procedure cost; GlORES provided financial assistance for the rest.
After the recovery, Jackson states: "My legs are corrected and are straight. I can now go to school.  I am happy with my family because I have returned to school.  My family and I do not know how to thank GLORES program."
Girl Born with 'Backward' Legs
The name of this cute little girl is Victoria Komada. She was born with bilateral tibial hemimelia – an extremely rare congenital deformity which causes her legs to be deformed and missing bones. She was unable to walk until
a surgeon in Florida performed 2 miracle surgeries to give her the ability to walk for the first time.
The parents are from Poland. They appealed to the communities in Norwich and Szczecin and raised $234,000 for her treatment.  The surgical procedures were a success but severely painful, Marzena Drusewicz, Victoria's mother, said.
"She was in a lot of pain all day and all night. We had all had enough. It was really horrible. Of course, I was so scared and didn't know what was going to happen. She would cry and scream so much after the operation." 
She continues to say: "Every week she got better and better and now she is not in any pain at all and can walk normally and we can all start our life again now we are home. We were so happy when she took her first steps we started crying. We were on the way to the car and she said Mummy, can I show you something." 
Romanian Guy with Backwards Knees
As the name suggests, this man is from the city of Tishwarah, Romania. The post was published on an Arabic website, alwatanvoice.com, with some information on him. He's named Florinel, aged 25, and married in Romania. He left 2 children in his country.
According to the blogger, Florinel plays music in the street of Manchester, England, for voluntary donations in order to make enough money to take care of himself, support his 2 children and save. He is unable to take buses and public transport; he uses skateboard to move around the city.
He has been living in Britain for about a year; he does not speak English. When asked if he wants to return to his country he replies negatively. He does not plan to correct the knees either. He uses the disability to get sympathy and money from passers-by in the streets.
The Ballet Dancer with Rare Bone Cancer
Gabi Shull is a schoolgirl from Missouri. At age 9, She was diagnosed with osteosarcoma, the most common type of bone cancer in children and teens. It arises most often in the wide ends of long bones, such as the femur and tibia.
Her lower leg was surgically removed but her foot and ankle were attached to stump. This allows her to not only walk again but also become a ballet dancer. Gabi, now 14, is in a mission to inspire others to 'never give up'.
In an interview, she states: "After I had my leg amputated the first call was to just get me walking again and get me out of the hospital bed. But what motivated me to walk was the thought of dancing again because I just wanted to dance."
Girl with Backward Legs
This is an incredible history of a little girl whose bowed legs were twisted completely backward due to a rare form of growth disorder called Blount's disease.
Justine, 11, had a rare growth disorder that causes her feet to face 180 degrees in the wrong direction. But she did not let the deformity limit her life.  Her parents said she plays like all teenagers in her age. She skips, plays soccer, and even climbs tree. She says her "favorite hobbies are running, playing soccer, jumping rope, playing hide and seek, and climbing trees.
But Surgeons from the charity Mercy Ships helped her have a better life. They performed many surgical procedures and correct the deformity. They cut the bones in each leg, untwisted her limbs and set them back in place with plaster casts.
Orthopedic surgeon Dr. Frank Hayon states: "Justine had an extreme case of Blount's disease with angular and rotational deformities of both legs rotating her feet 180 degrees or essentially backward. To correct the deformity, it required us to do osteotomies or cut the bones in each leg and untwist her legs." 
The Boy Without the Left Femur
Efone Jacque is another boy from Bafoussam, the capital and largest city of West Cameroon, born with an extremely rare deformity.  He was born without his left femur. He was not able to go to school as it was painful and difficult for him to walk. His left leg was damaged and shorter than the right leg from birth.
His parents took him to the same treatment center, GLORES, for corrective surgeries. Now he is able to walk with the help of splints, which he will continue to wear until the age of 25 when the deformed leg will be amputated and replaced with a permanent prosthesis.
Efone now goes to school, which was his dream.
Freddy Pokam Deformed Legs
This is another case of bilateral valgus knees from Africa. Freddy Pokam had a severe limb deformation which impacted almost all aspect of his life as a boy.  His legs were crossing over each other making it hard to walk. So, it was difficult for him to go to school and plays with other kids.
To make things worse, other children made fun calling him "distorted legs".  But GLORES organization intervened and helped the boy get a normal. They performed several surgeries and corrected the deformed legs.
Now he can walk freely and go to school with no sign of disability any more. After the recovery he expressed his gratitude in this way: "now I am like other children.  Thanks be to GLORES and to God above all."
Patrick Kenfack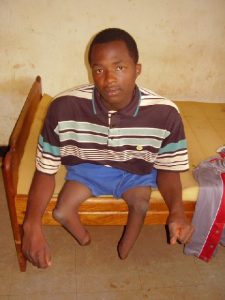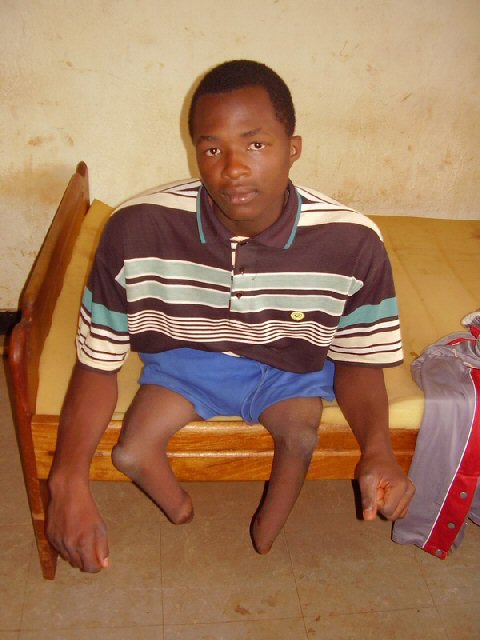 The name of this young man is Patrick Kenfack. When these pictures were taken, he was 18-year-old. Due to a congenital disease, he was born with his legs too small or underdeveloped. According to the family, they contacted many medical professionals, including an orthopaedic surgeon from Holland, for corrective surgery but they say nothing can be done.
But his mother took him to GLORES, the same Handicap Treatment Centre, where he was examined and treated for 3 months.  They surgeons help straighten the deformed legs, put on prosthesis and trained the young man to walk.
Now Patrick Kenfack can walk and go to school. He also works as Secretary of the Handicapped People Organization in Bafoussam.  He said, he's looking forward to finding a job after his education.
Nigerian Man with Leg Hanging in Air
This Young Nigerian is affected by an extremely rare deformity that causes his left leg to permanently suspended in the air. Unfortunately, his name was not published.
The disable man learned to walk using his good leg. He was spotted in a village near Ugbamaka, Nigeria, while doing his best to walk. The man who spotted him, Onyegbule, took his picture and posted it to Facebook in order to create awareness to his condition.
The post states: "I saw this young man yesterday in a village near Ubamaka in Kogi State. I was touched. Is there anything the medical world can do to his condition?".
Luckily, the post went viral and brought a lot of attention to the young man suffering. Government officials of his country offered to pay for corrective surgery.  He received treatment, which was sponsored by the Kogi State government, to walk normally but I don't have pictures of him standing after the surgery.
The surgery was successful, and now the young man is recovering. He will walk normally, states Dr. Attah J.
Thank you for reading to the end. If you have any comment or suggestion, kindly share it below.
(Visited 211 times, 1 visits today)